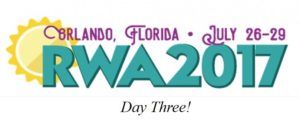 With my stress levels dropped back down to normal, Day 3 began with a takedown of my stupid Iran paper assignment. My classmates and I agreed that it sucked salty balls and we wanted it over as quickly as possible. Our cathartic bitching gave me the energy I needed to face the day!
I finally got to meet some other authors! Had a great lunch with folks from my agency, Prospect, including Emily Kim (an agent) and Regina Scott, who writes sweet inspirationals and has some kind of gluten intolerance but was still really nice to the wait staff, and graciously tolerated me asking her about a million questions, thereby solidifying her status in my mind as a fantastic lady worthy of super stardom.
In the evening, I went to the Passionate Ink RWA chapter event, which included free food and booze – always a plus! There, I met Laura Baumbach, who owns her own publishing house and writes exclusively M/M erotic romance. She's a retired trauma nurse, and reminded me a lot of my mother – if, when I was growing up, my mom wrote gay Forever Knight fanfic which she then parlayed into a successful literary career. I can only dream!
I met a bunch of other awesome people, too, including a retired Air Force sergeant! He "coined" me – which is when you throw your military coin on the table, and whoever doesn't have a coin buys the group drinks (of course I didn't have mine with me – too bulky for business casual slacks).
And then…and then…I won second place in the Passionate Plume 2017 contest for speculative fiction! That's my second 2nd place win for Vengeance! Not bad for my first traditionally published book (second published book ever). Getting closer to the Pulitzer! One book at a time, folks…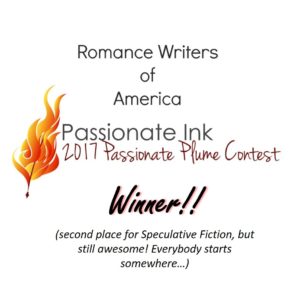 All in all, it was a much better day than Day 2.