(Contemporary women's fiction with literary elements, published on June 9, 2019 through Amazon Digital Services LLC)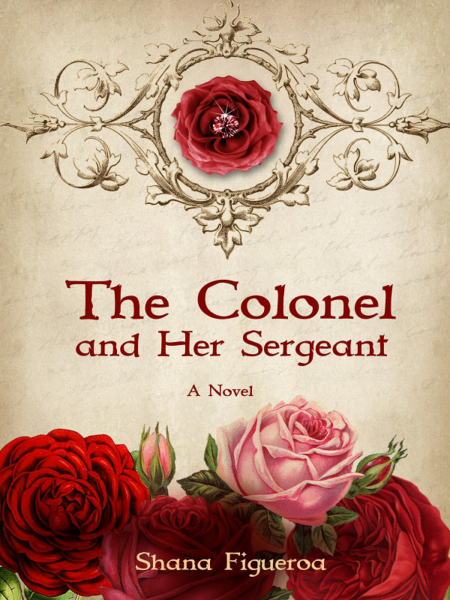 In this modern take on the classic novel Anna Karenina, The Colonel and Her Sergeant is the gripping and tragic tale of a powerful woman of color in a white man's world who dares to indulge in forbidden love.
"Through the din of the military ball, Colonel Anna Archer heard him laughing. Turning, she saw a tall young man with olive skin, black hair slicked back into one thick wave to stay within Air Force regulation, service dress cutting his torso into a sharp inverted-A. Chatting with a group of friends, he laughed every time one of them told a joke—young people."
"An enlisted man. She turned away…"
From the moment she saw the young, dashing Sergeant Victor Shamrock, Anna knew she wanted him—and that desire would be the end of her. For in her position as a colonel—a rocket launch commander, no less—romantic relationships with lower-ranking soldiers are strictly forbidden. And as a powerful black woman in a white man's world, she must stay above reproach if she has any chance of moving up the ranks.
But when she's passed over for a promotion in favor of a white man with less experience, Anna begins to question the military culture she dedicated her life to. She made her career by conforming to a man's world, by suppressing her feelings—by denying her womanhood. In a painful reality check, she realizes it wasn't enough. Now she can't deny who she is anymore—a woman who aches for love, no matter the cost.
The Colonel and Her Sergeant is an epic story about all the ways love can hurt and heal us, trying to reach for the stars in a world holding you back, and finding the strength within to rise from the ashes of tragedy.
Available now in digital and hard copy on Amazon!

***
(Science fiction young adult novel with strong romantic elements, published on July 16, 2018 through Amazon Digital Services LLC)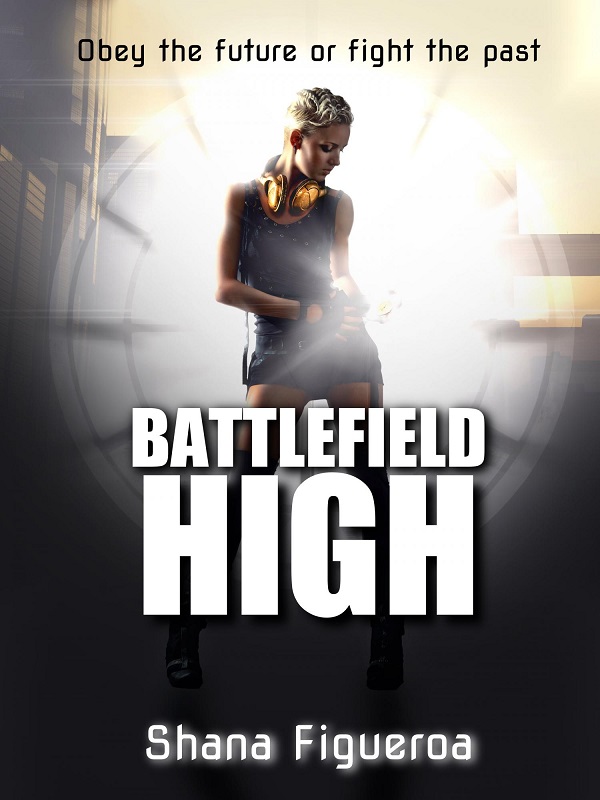 From a cruel and desolate future, one tough-as-nails soldier is forced to relive her even crueler high school years, where the key to saving the world may not be learning to fight but learning to love…
In 2045, Major Cora Johnson is the leader of an elite US Army squad in a dying world, where mysterious time-altering weapons have started a second civil war. A devastating plague has pushed humanity to the brink of extinction. The only thing keeping Cora going is the belief she must keep fighting to end the war and save the future.
When a bomb goes off during her squad's attack on a temporal weapons facility, Cora dies…and then wakes up in her teenaged body in the past.
Her childhood memories have been wiped away, leaving her stumbling around the unfamiliar and often cruel world of the modern teenage girl. She may have one ally—Quentin Rose, another traveler from the future trapped in his teenage body and fighting for survival in the take-no-prisoners war zone of high school. Unfortunately, she's not sure if he'll help her, kill her…or kiss her.
Things get even stranger when Cora receives mysterious orders to kill the school queen bee, Madison, whom she's told will start the Second Civil War. But since being forced to relive the past and everything she sacrificed for the greater good, she's beginning to question what she fought for to begin with—and if it's worth doing again.
Should she obey like the good soldier she's supposed to be, or resist and risk destroying the future?
Available now in digital and hard copy on Amazon!

***
(Romantic comedy, Published on March 1, 2015 through Amazon Digital Services LLC)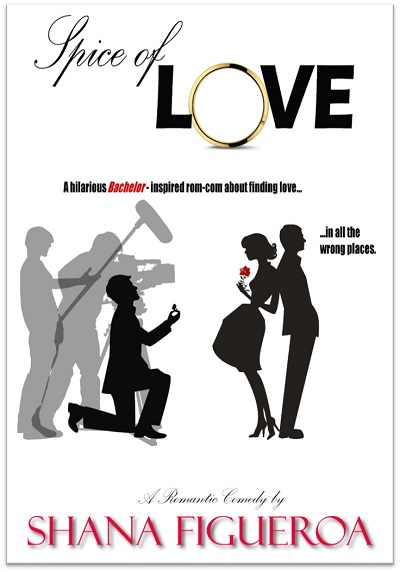 What's a girl to do when her heart won't follow the script?
Still reeling from the death of her husband three years ago, journalist and single mother Geni Costa is less than thrilled when, through a stroke of strange luck, she scores a spot on the reality dating TV show The Spice of Love. She accepts the opportunity anyway, hoping a big scoop on this season's rich, mysterious bachelor will earn her a desperately-needed promotion and raise so she can afford a better life for her daughter. Besides, finding true love on a reality TV show is impossible…
Blaise Moreau has had it with his job as head producer of The Spice of Love. Embroiled in a messy divorce and unable to see his beloved son, he can barely muster enough energy to promote the "true love" and "soul mate" baloney he used to believe were real. Blaise is desperate for an easy, boring season…
Too bad he let Geni Costa on the show.
The feisty single mother blows up one date after another. As Blaise scrambles to pick up the pieces and salvage the show, he feels himself irrationally drawn to her…but she's supposed to fall in love with the bachelor, not him. And for Geni, what began as a financial opportunity turns into something more when against all reason she finds herself falling in love—but with the bachelor, or the head producer?
Praise for SPICE OF LOVE:
"SPICE OF LOVE by Shana Figueroa had me chuckling almost from the get-go. …Ultimately, this is a story of second chances butting heads against Murphy's Law; of misunderstandings both intentional and unintentional; and of happily ever afters even for the most cynical." – Gabrielle Sally from The Romance Reviews
Available now in digital and hard copy on Amazon!
***
The Valentine Shepherd Trilogy
"Beautifully written. Shana Figueroa is an exciting new voice in the paranormal genre." — Opal Carew, New York Times bestselling author

(Book 1 of the Valentine Shepherd Series)
(Romantic suspense with erotic and paranormal elements, Published on Sep 6, 2016 through Hachette's Grand Central Publishing)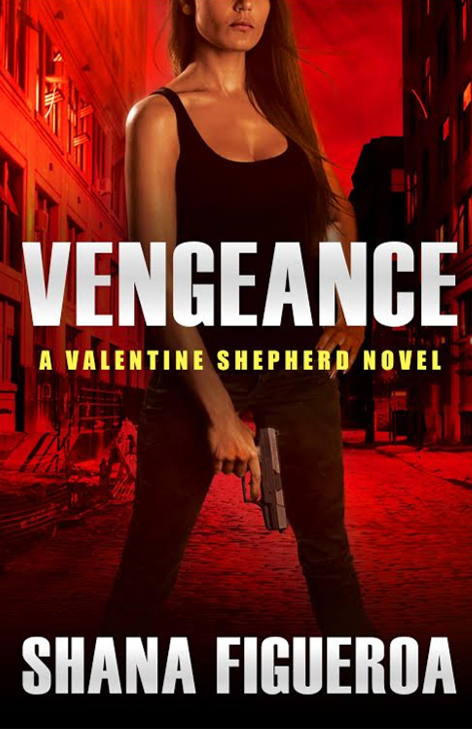 Not every Valentine is a saint . . .
Corruption. Greed. Illicit sex. Murder. Private investigator Valentine Shepherd thinks she's seen it all, and her strange ability to glimpse the future gives her an edge no one else in the world has. But when her fiancé is killed trying to exonerate his client, billionaire Max Carressa, Val makes it her personal mission to bring the people responsible to justice, no matter the cost. Convinced the two men are linked by more than attorney-client privilege, she enlists Max's help in her investigation and gets more than she bargained for . . .
On the run, Val and Max must uncover who wants them dead and why. The answer leads them to a conspiracy that has Val herself at its center. She doesn't understand how or why, but time is running out to expose the truth and escape the danger she knows is coming . . .
Available now in digital and hard copy on: Amazon, Barnes & Noble, Apple Books, Google Books, and Kobo!
Praise for VENGEANCE:
"This book blew me away! I was literally hooked from page one until I finished it eight hours later. …Everything about this book was fantastic. The characters, the writing, the plot, and the best part was the plot twists!" – Night Owl Romance
"Explosive action, increasing body count, all the way/around the way/any way sexual encounters. P-l-o-t. Plot. And more plot. There was a huge does of wtf, really, are you kidding me, oh no, say that again. I just can't tell you the details. You have to read this one for yourself." – Miley the Book Junkie Reads
(Book 2 of the Valentine Shepherd Series)
(Romantic suspense with erotic and paranormal elements, Published on Feb 7, 2017 through Hachette's Grand Central Publishing)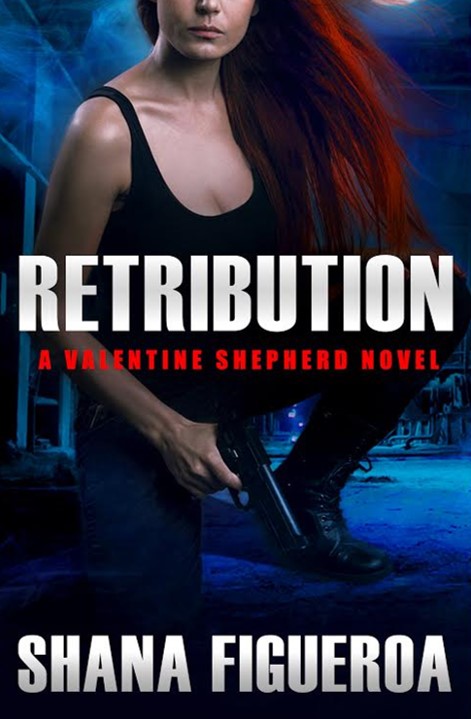 V is for vengeance…
Private investigator Valentine Shepherd plays by one set of rules: hers. She's haunted by dark, cryptic visions of the future, not to mention an aching hole in her chest where her heart—and the love of her life, Max Carressa—used to be. But when Val's search for a missing woman leads to her own night of terror, the only thing on Val's mind is revenge.
In the months since Val walked away from their relationship, Max has tried to move on. Yet when she asks for his help tracking down her attacker, he knows resistance is futile: he'll do anything for Val. Even sacrifice himself to save her.
Praise for RETRIBUTION:
"This is only the second book in this series and it is already one of my "must read" urban fantasy series! RETRIBUTION (Valentine Shepherd #2) by Shana Figueroa gave me complex characters, a plot that continues to surprise and kick-butt action." – Avonna Loves Genres

"I enjoyed the way the story played out, the twists and turns, the weaving together people who seemed not to have a connection and then….Stars: Five, a great read, and sometime I want to read book one, but for now am waiting 🙂 for the final part!" – Jeannie Zelos's Reviews
Available now in digital and hard copy on: Amazon, Barnes & Noble, Apple Books, Google Books, and Kobo!
(Book 3 of the Valentine Shepherd Series)
(Romantic suspense with erotic and paranormal elements, Published on Jul 11, 2017 through Hachette's Grand Central Publishing)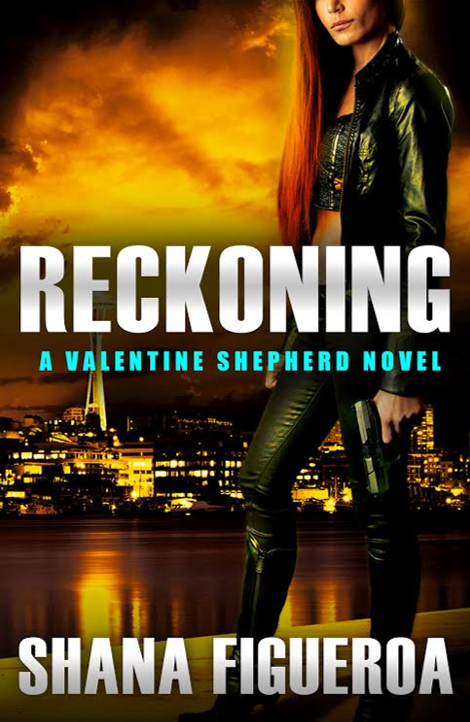 Hell hath no fury like Valentine…
Five years. It's been five years of blissful peace for private eye Valentine Shepherd and her hot-ass husband, Max Carressa. Five years of watching their twins grow up healthy and happy, even as Val waits for Hell to unleash its fury. Her enemies have been planning, and Val knows she doesn't have nearly enough weapons to protect her family…
Yet Val and Max have one advantage—their insatiable desire for each other allows them to see into the future, and the visions they share may just give them a chance. But as events are set into motion that endanger everyone Val's ever loved, she'll do whatever it takes to stop the horror she's already seen.
Praise for RECKONING:
"Stars: Five, perfect wrap up for this trilogy leaving the door ajar for more books later as the family grow…Its a supernatural read with an unusual twist, and it was refreshing to read something so different to most books offered." – Jeannie Zelos book reviews
"I don't normally read this genre since the few I have managed to read have felt dumbed down especially compared to this series…I'd recommend everyone give this series a try even if the genre isn't your usual. You might be surprised." – Brittany (The Crafty Engineer's Bookshelf
Available now in digital and hard copy on: Amazon, Barnes & Noble, Apple Books, Google Books, and Kobo!