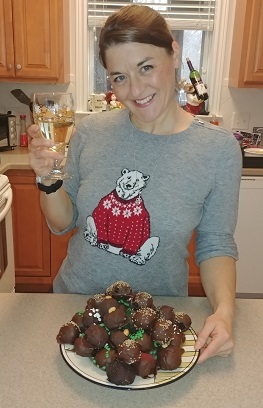 Are YOU looking for a simple yet mind-blowing Christmas/New Year's/Anytime Really dessert to shame your relatives with this year? Then look no further than THIS fool-proof epic deliciousness that anyone can make – Oreo Bonbons!
Usually when I make them, people look at me and say "You made these?!?" I nod, and their eyes roll back in their heads as they're gripped in taste ecstasy.
As a result, a few people have asked me how to make them. Well, it's super simple! They take ~2 hours of prep time, including chilling. Here's what you'll need:
1 package of Oreos
1 8 oz. package of cream cheese
3 containers of chocolate dip OR 4 packages of cooking chocolate
Steps:
Crush the Oreos
Add cream cheese
Roll into balls of about 1-inch thickness, placing balls on wax paper
Chill balls in freezer for about an hour
Take balls out of freezer. If the balls aren't circular enough or are rough-looking (can happen if they're too gooey), roll them into nice spheres between your palms.
Melt the chocolate dip (for packages of cooking chocolate, break up the chocolate and microwave it for 30 seconds at a time, mixing each time, until the chocolate is smooth and evenly melted).
Dip each ball in the chocolate dip, then place back into the wax paper
Sprinkle jimmies or other decorations on top if you want, before the chocolate dip hardens
Put balls in refrigerator until chocolate dip sets, usually for 20-30 mins
Take balls off wax paper and serve!
You can make an endless variety of flavors by either adding stuff like raspberry jam, peanut butter, or rum (RUM BALLS ARE THE BEST VARIATION), or simply crushing up one of the other approximately eight thousand other flavors of Oreos in existence. It's just that easy!